Please Scroll all the way down to see all design options, specs, and pricing. Click the pictures for a bigger image.
"Choose at Least Three Items To Make A Complete Breakfast!" Breakfast Static Cling #1
ITEM SC-FTF-G1

"Choose at Least One
Fruit or Juice To Make
A Complete Breakfast!"
Breakfast Static Cling #2
ITEM SC-FTF-B2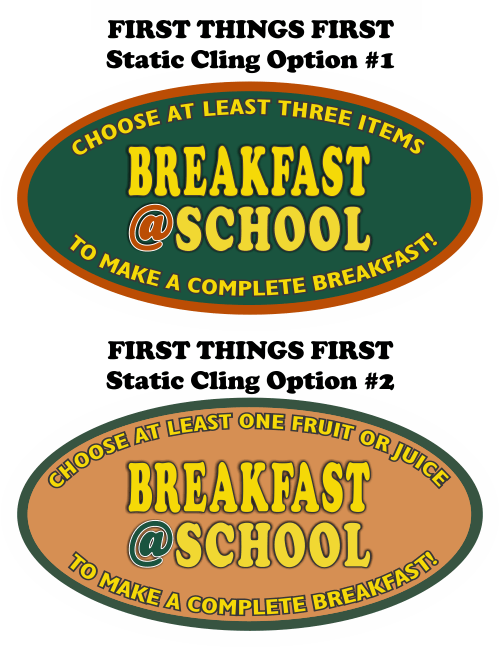 ---
Specs, Pricing, and Ordering
"FIRST THINGS FIRST" Static Clings
Two different designs (quantity prices are per design, not total clings ordered)
Colors, logo, look matches the stand-alone banner
Size is 6" wide by 3" high
Adhere to glass from the inside so customers can't fiddle with them
Reposition and reuse repeatedly
Menu Magic subscribers receive an 18% discount! Learn more about Menu Magic here.
Click to see the Clings for our "DON'T4GET!" Campaign for the new Lunch Regs.
To request a complete quote including shipping, please
email or call Jennifer toll-free at 877-739-1577 or
click here to go to our on-line order/quote form,
which will open in a new tab/window so you can continue to
look at items while you decide what you want to be quoted on.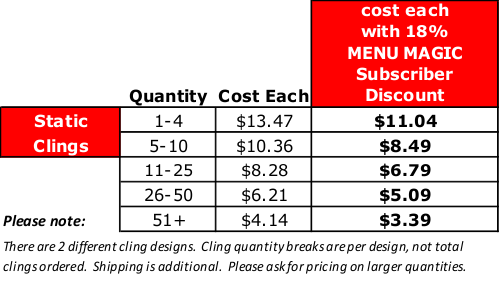 We're very happy to offer our Menu Magic subscribers a substantial discount on these items. If you are not a subscriber, YOU SHOULD BE! Learn more here.