"Fruitful" Banners for Prices/CEP and more
Restaurant-Style 5' high X 2' wide Stand-Alone Banner w/Stand
All Banners Customized with your choice of name(s) at the bottom.
Please scroll all the way down to see all design options, specs, and pricing.
ITEM BAN-FF-1
Click the pictures for a bigger image.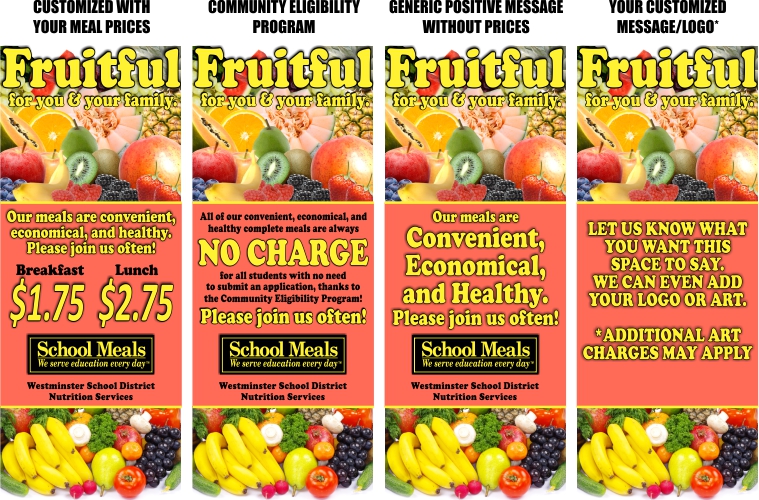 When ordering "Fruitful" banners, we will ask you to specify
WHICH OPTIONS for each banner you want
Which Text Version do you want: PRICES, COMMUNITY ELIGIBILITY, GENERIC, or CHOOSE YOUR OWN TEXT

Do you want customization: The PRICES version can only be ordered customized; the COMMUNITY ELIGIBILITY and GENERIC versions can be ordered standard or customized with your program name

If you're ordering a customized PRICES version, let us know the prices you want to include. For all customized banners, let us know the customized program name for the bottom

ALSO -- ask about versions with alternate text/logo if you need something different (a small art charge may apply).
Please note that we don't need the specifics of your choices
for the purposes of quoting your job -- only the total number of Fruitful banners of all designs that you want. We'll confirm the specifics and send you proofs later.

Click the pictures for bigger images.
---
Specs, Pricing, and Ordering
Each banner includes your choice of name(s) at the bottom --
we will send you proofs for approval before production.
MIX AND MATCH BANNERS -- WE'LL GIVE YOU THE QUANTITY BREAKS BELOW ON THE TOTAL NUMBER OF BANNERS YOU ORDER!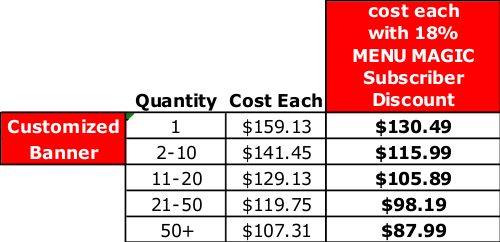 We're very happy to offer our Menu Magic subscribers a substantial discount on these items.
If you are not a subscriber, YOU SHOULD BE! Learn more here.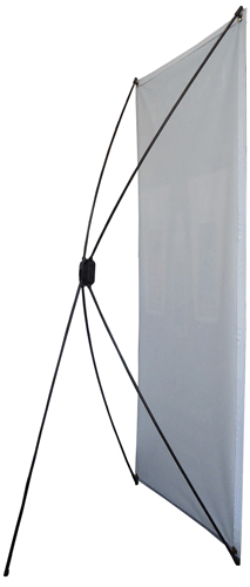 More About Our Restaurant-Style Stand-Alone Banners
One of the hottest display media in the restaurant business, these light, portable stand-alone banners work hard for you in any number of cafeteria environments and don't need to be permanently attached. (Scroll down for a video and pictures showing how these signs work).
These banners are professional-looking, colorful, super-easy to put together and store, and they give you the flexibility to use them in any conceivable cafeteria layout without special installation
All banners include customization with your choice of district/program/school name at the bottom
Other banners are available or we can design a banner to meet your needs (art charges may apply for new designs).
Size is 13 oz. vinyl, 2' wide by 5' high, grommets in corners. Stand depth is about 3'.
The carbon fiber rod stand is included with every banner, but the banner can be hung by grommets if you prefer.
Menu Magic subscribers receive an 18% discount! Learn more about Menu Magic here. >
We've got a short video (starring John!) showing what some of the other banners we've designed look like:
You can also access the video directly on youtube at this link: http://www.youtube.com/watch?v=5enu9ldQYhw&feature=youtu.be