"DON'T4GET!" INDIVIDUAL FOOD ITEM LABELS
ITEM LAB-D4G-1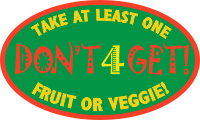 ---
Specs, Pricing, and Ordering
Individual "DON'T4GET!" Food-item Labels
Colors, logo, look matches the stand-alone banner
Size is 1.25" wide by .75" high
Like the stickers you see on fruit at the store, but slightly larger
Use directly on fruit and veggies to identify the choices that count
Use every day on all fruit and veggie choices, or on every fifth or tenth item, or only on some day
Not meant to be eaten, but safe for consumption
Can also be given out to smaller kids to wear to show they've had their fruits and veggies
Menu Magic subscribers receive an 18% discount!

We're very happy to offer our Menu Magic subscribers a substantial discount on these items. If you are not a subscriber, YOU SHOULD BE! Learn more here.