Please Scroll all the way down to see all design options, specs, and pricing. Click the pictures for a bigger image.
NEW!
"SUMMER MEALS!" Poster
ITEM POS-SM-V1
Click the picture for a bigger image.
Please scroll down for specs and pricing.
Back to Summer Meals Index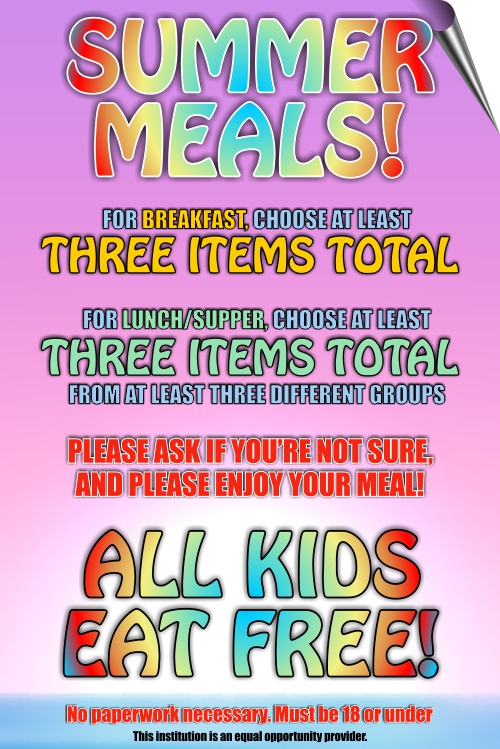 "SUMMER MEALS!" Photo-Tex Posters
See the demonstration video here
Colors, logo, look matches the stand-alone banner and other items in the "SUMMER MEALS!" campaign
If the banner is too big, this poster may fit better for you, OR you may want to use the posters to reinforce the banner message in different spots
Size is 14" wide by 21" high for the vertical poster
Printed in full-color on

printed

on Photo-Tex, an amazing adhesive media material that can be installed on virtually any surface (except non-painted brick)
Amazingly flexible material sticks to virtually anything, no need to tape or hang
Remove, reuse, and reposition many times over

The adhesive does not leave any residue behind when it is moved, does not remove paint from a primed wall, applies without wrinkles, and does not rip

Menu Magic subscribers receive an 18% discount! Learn more about Menu Magic here.
Check out this short video (starring John!) showing how the photo tex posters work!
You can also access the video directly on youtube at this link: http://www.youtube.com/watch?v=-XZvLG9DGY4&feature=youtu.be
To request a complete quote including shipping, please
email or call Jennifer toll-free at 877-739-1577 or
click here to go to our on-line "SUMMER MEALS" order/quote form,
which will open in a new tab/window so you can continue to
look at items while you decide what you want to be quoted on.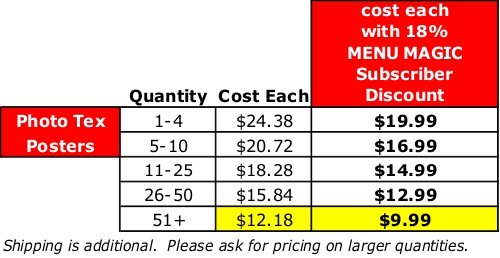 Please note that Poster quantity breaks are per design, not by total posters ordered.
We're very happy to offer our Menu Magic subscribers a substantial discount on these items. If you are not a subscriber, YOU SHOULD BE! Learn more here.