PLEASE NOTE: Scroll down to see the files for downloading.
Click here or on the image below to see a full size pdf of this month's newsletter.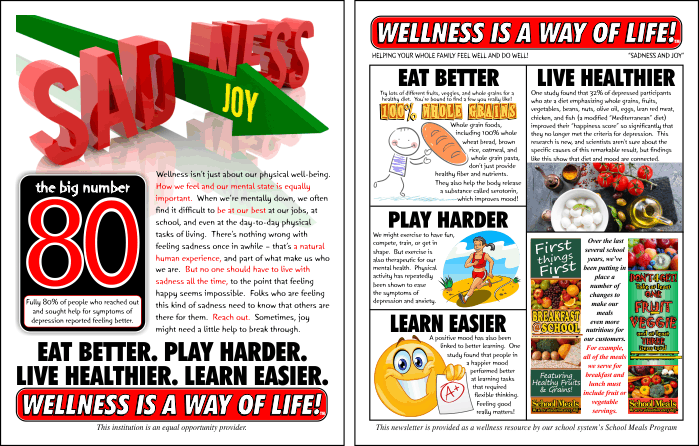 Wellness Newsletter -- Sadness and Joy
A MENU MAGIC "EXTRA" -- FREE TO OUR SUBSCRIBERS! A monthly, two-page Wellness Newsletter, featuring an expanded version of the Wellness piece from the menu on the front, and five bite-sized features on the back. The back-page features will play out each of the four areas of our Wellness campaign -- Eat Better, Play Harder, Learn Easier, and Live Healthier -- and the fifth space will be a public relations piece for your program, highlighting the New Regs.
This is the kind of professional, useful wellness tool that will really solidify your program's place as a nutrition and wellness resource for your kids and communities! And it's yours FREE with your Menu Magic subscription.
If you like, you can use the .pdf file to print copies of the newsletter for distribution. We also recommend that you post the .pdf file to your web site. Please call us if you need any help getting these on-line. If you like, we will also post the newsletters for you for FREE, too, with your school system's web page header. Please go to to these links to see examples:
Full-color, two-sided customized copies of the newsletter are available from us at a great cost.
For more info, simply call Jennifer toll-free at 877-739-1577 or email us with the quantity you would like. We'll send you a quote right away.