"DON'T4GET!" Lunch Bookmarks

ITEM BM-D4G-1

---
Specs, Pricing, and Ordering
"DON'T4GET!" Bookmarks
Colors, logo, look matches the stand-alone banner
Size is 2" wide by 7" high
Same full-color imprint on both sides
Printed on 14 pt cardstock
Menu Magic subscribers receive an 18% discount! Learn more about Menu Magic here.
Please note: Since this is an item that will be seen and used outside the cafeteria, we added the "School Meals: We Serve Education" logo at the bottom of the design to supply the missing context for our message! Scroll all the way down to see it at the bottom of the bookmark.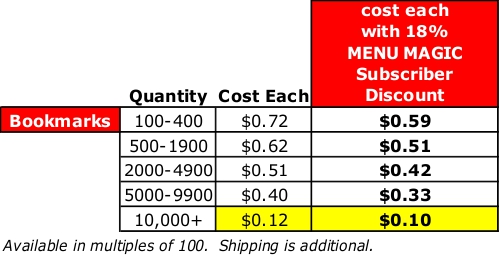 We're very happy to offer our Menu Magic subscribers a substantial discount on these items. If you are not a subscriber, YOU SHOULD BE! Learn more here.